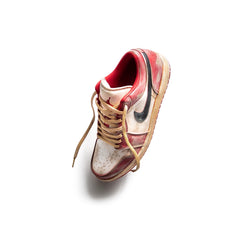 The School Of Levin
Air Jordan 1 Low
Gym Red Air Jordan 1 Lows turned into Aged 1985 Air Jordan 1 Chicago Lows.
Any item you purchase is one of a kind. There are no two items in our shop that are exactly the same.
Please note we will be ordering your size upon purchase from a third party. We are aware of delivery delays and although we are shipping orders as usual, please allow at least 3 weeks for your order to reach you.